Mobile phone sensing bug kit
Looks good - probably wont work
Here is a video of a pleasing little kit I found recently. This circuit is a set of diodes which harvest radio energy from the older style of phones and light a LED with it. This wouldn't work with my S8, as it is on the wrong cellular bands, but is a nice little kit if just for the 'BUG' aesthetics.
Watch video of me building this simple kit here:
The nicest thing about this kit is the board. Its nicely made and does look like a bug. But the addition of the diodes as legs and the antenna antenna seal the deal.
Try searching for DIY Kit ICSK032A Mobile Phone Signal Flash Light Radiation Power on eBay to make one yourself.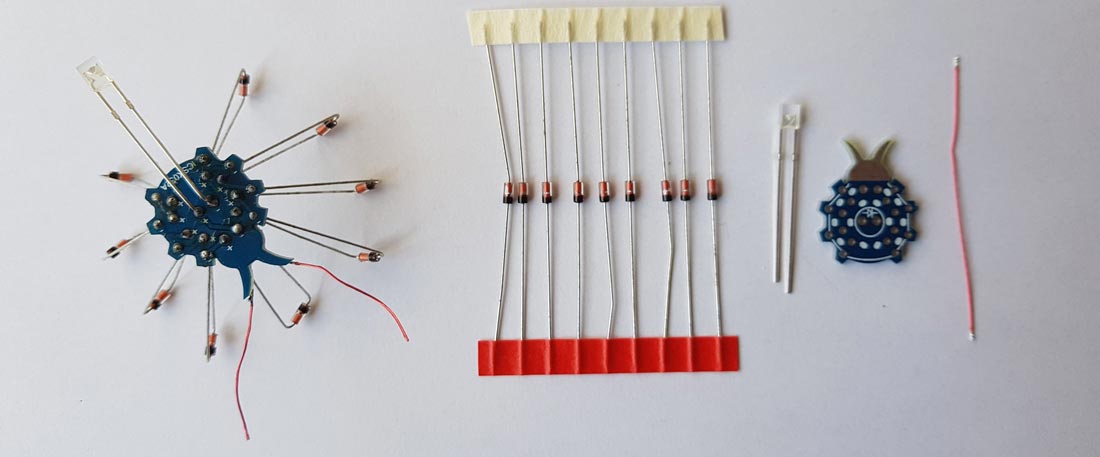 I used to be fascinated in 'BEAM' robots, where very simple little moving objects were created out of junk, and these took on insect like qualities. I've also used old electronic junk to make insect-like models, but mine didn't do anything.
1-Oct-2017 Add comment
blog comments powered by

Disqus
Permanent Link